Wholesale With Kita
Regular price
$90.00 USD
Sale price
$80.00 USD
Unit price
per
Sale
Sold out
24in chain with charm 
Important info:
•Please ask any questions before purchasing
•No cancelations/returns
•Once post office receives packages we are not responsible for any lost or stolen orders
•Comes packaged in jewelry bag for continued storage
•No guarantee/warranty

Care Instructions:
• All of our jewelry pieces are delicate and need extra care and love. As such, please:
💜 Take off the jewelry if you plan to get wet such as going to the beach, pool, shower, bath, spa etc.
💜  Remove the jewelry before going to sleep, exercise or if you plan to do any physically strenuous activities. This is to avoid any unnecessary wear and tear
💜 Put on the jewelry last, only after you apply any make-up, skin care products, perfume, hairspray, etc.
💜 Avoid contact with any harsh chemicals such as household cleaners, acid, alkali, corrosive substances, etc. This includes not using any chemical jewelry cleaners.
💜 Wipe down your jewelry with a soft, lint-free polishing cloth (which you are provided with) and store in a closed/sealed bag or box in a cool dry place.
Share
Care information

Care instructions are included with every order. Please make sure to follow so that you can take advance of the longevity of your item or items. Wipe down after each wear with the cloth provided, no direct contact with water; if so no problem just wipe down ASAP, do not sleep or do outdoor activities in your jewelry. Sweating in your jewelry can and will cause tarnishing especially if you have on lotions and body sprays.

Studies say with proper care jewelry will and can last for years.  
View full details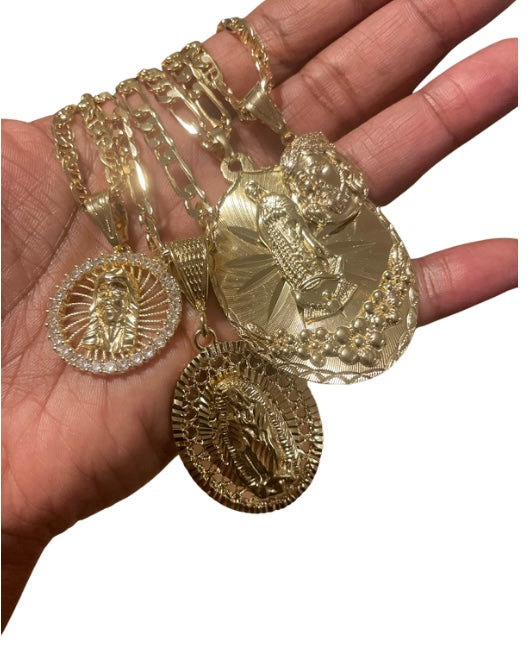 Big guadalupe
Necklace broke my neck out after about a hour around my neck I thought it was plated 14k but I guess not
Sorry to hear that however it is stated on the very first place of my website the material my items are made off. And it's also states in the description any questions please ask before ordering. Again sorry to hear it broke you out as the materials it's made it aren't known to cause allergic reactions as it gold overlay not plated which is a better quality.